How to complete the AHA eLearning Class:
Online training provides a flexible alternative to classroom training.  Students must complete the online course, print out the Part 1 completion certificate and call to schedule skills practice and testing. Skills sessions are not included with the purchase of an online (Part 1) course. Students can schedule a private individual skills practice and testing to fit their schedule: ACLS skills fee: $195, PALS skills fee:$195, BLS skills fee: $50.
Go to the AHA website: www.onlineaha.org
Select online course:

BLS – Basic Life Support- BLS for Healthcare Providers Online Part 1
ACLS – Advanced Cardiovascular Life Support- HeartCode ACLS Part 1
PALS – Pediatric Advanced Life Support- HeartCode PALS Part 1

Complete online course and print out your course completion certificate
Call 800-483-3615 to schedule a private skills practice and testing session.
AHA certification cards will be issued upon successful completion. Students must present online course certificate.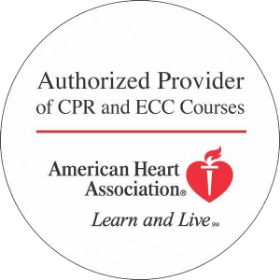 The American Heart Association strongly promotes knowledge and proficiency in BLS, ACLS, and PALS and has developed instructional materials for this purpose. Use of these materials in an educational course does not represent course sponsorship by the American Heart Association. Any fees charged for such a course, except for a portion of fees needed for AHA course material, do not represent income to the Association.
NEED HELP? GIVE US A QUICK CALL
Our standard office hours are 9:00 a.m. to 5:00 p.m., Monday – Friday.