American Health Education has been an American Heart Association (AHA) authorized Training Center since 2003. We are committed to providing the highest level of quality AHA training to the pre-hospital and hospital medical professional.
We utilize experienced AHA instructors who teach the AHA curriculum to medical professionals at all levels, in a non-stressful environment. We equip our students with the knowledge, skills, and competencies to achieve certification. CE's are included in the course fee and AHA cards are issued the same day upon successful completion of the course.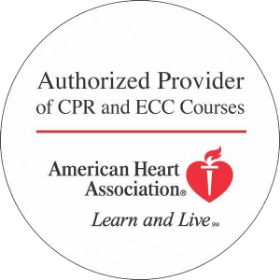 The American Heart Association strongly promotes knowledge and proficiency in BLS, ACLS, and PALS and has developed instructional materials for this purpose. Use of these materials in an educational course does not represent course sponsorship by the American Heart Association. Any fees charged for such a course, except for a portion of fees needed for AHA course material, do not represent income to the Association.
NEED HELP? GIVE US A QUICK CALL
Our standard office hours are 9:00 a.m. to 5:00 p.m., Monday – Friday.